WorkAlone Feature in SAFEGryphon

WorkAlone Feature in SAFEGryphon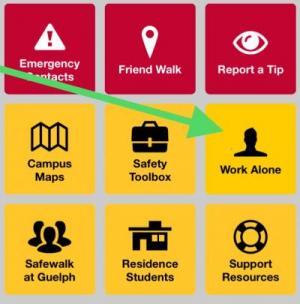 WorkAlone is a brand new feature to the SAFEGryphon App.  WorkAlone is a way for anyone to virtually check in with a family member, friend, co-worker or anyone you choose if the user is working late at night or is working alone or would feel safer if they were being checked up on during this time.  WorkAlone is fully customizable and allows the user selects how long the work alone session will last and how many times a "check in" is required.
Here is how it works….
1. The end user selects the work alone button in the app. There they enter important information such as how long they're working, how often the app should check in on them, and who their emergency contact should be.
2. Once they've made their selections, they "start" their WorkAlone session. The app will send them a push notification at the frequency they've selected.  So for example, if I indicated that I'm working alone for 3 hours and I want a check in every 30 minutes, then the app would send me a push notification every 30 minutes. When the app sends the user a push notification, it will ask them to "check in". If the end user checks in to confirm they're OK, then the app will not contact the users' emergency contact or Campus Community Police. If the end user ignores or doesn't reply to the check in within a 5-minute period, the app will make an outbound call using an automated call system and contact the end users' emergency contact and/or Campus Community Police.
3. The friend who receives the call has the option to call the end user back, simply by pressing "1" or to call the campus emergency services, simply by pressing "2".
4 .Otherwise, the end user simply continues to work alone and their work alone ends as scheduled.
WorkAlone is free to use and is in our latest updated version of SAFEGryphon. 
1. To update, open SAFEGryphon on your smartphone and wait for a black update box to appear at the bottom of your screen. 
2. Tap that and the latest version of the app will be available on your device.
3.  You may also see updates through your App Store on your device.